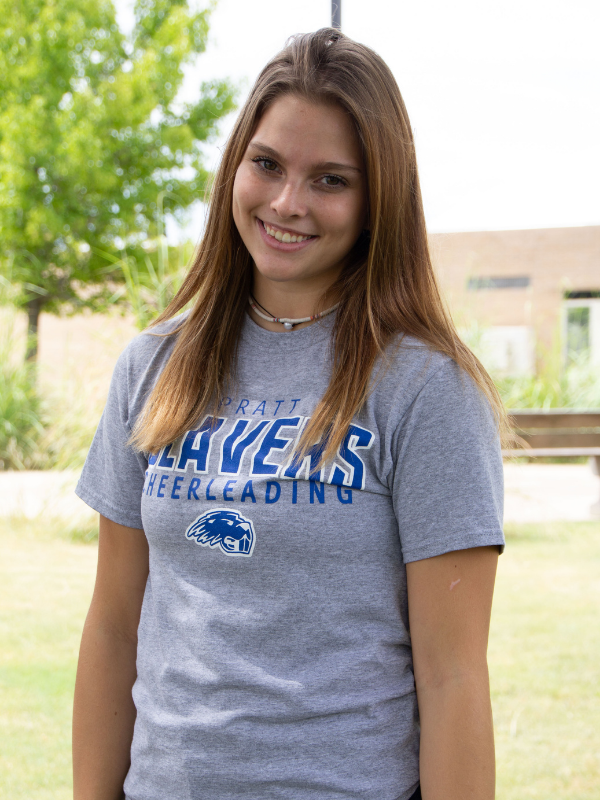 Name: Stephanie Kerst
Field of Study: Liberal Arts
Hometown: Kansas City Kansas

Stephanie is a Resident Assistant (RA) in the dorms, a Liberal Arts major and a member of the PCC Cheer squad.
What brought you to PCC?
Cheerleading
Why did you pursue this field of study or activity?
I have cheered for about 12 years now. When Coach contacted me I was so excited with the program and what it had to offer.
What do you like best about the program or activity?
I love the family vibe about everything. I am a part of the cheer team which I always have to go to, but outside my sport I help out with the Tech program for Misty and I RA with Brad and I have friends from everywhere and it has been the best to make a family with a big variety of people.
Is there any particular class, lesson or hands-on activity you really liked at PCC?
I love Late Night at the Lesh and every Pratt After Dark. I love all the activities on campus such as going to games with friends, and cheering at games. I also loved the activities we did at RA training that was fun and interesting to learn about my peers.
What do you plan to do in your career after degree or certificate completion?
I am looking into ABA therapy. It is a field of study that is just coming up in the world. It is all about helping special needs people live in the real world. Teach them how to clean their house, and wash their hair, and such and I have always been interested in helping special needs people and working with them.
What advice would you give to future students interested in this program at PCC?
This is the best decision I made. I have made life long friends from everywhere. The teachers are the nicest and they really work with you and understand that life happens. Everyone that works at the school is here to help you and you really feel that community love just walking around campus.
Any shout outs to instructors, staff or a mentor at PCC?
I want to thank Brad for hiring me and trusting me with the job of being an RA. I want to thank Coach Napier for everything she has done for me in and out of cheer. And would love to Thank Misty beck for giving me a chance and letting me help out behind the scenes with the theatre program.
Anything extra you want to add?
Pratt is the best decision I have ever made. I really grew in the two years I have been here and really wish I had two more to live out here. I will always and forever be a beaver. Roll Blue!

Interested in joining the outstanding Cheer team at PCC? Set up a campus tour to learn more!
Read more PCC Features.