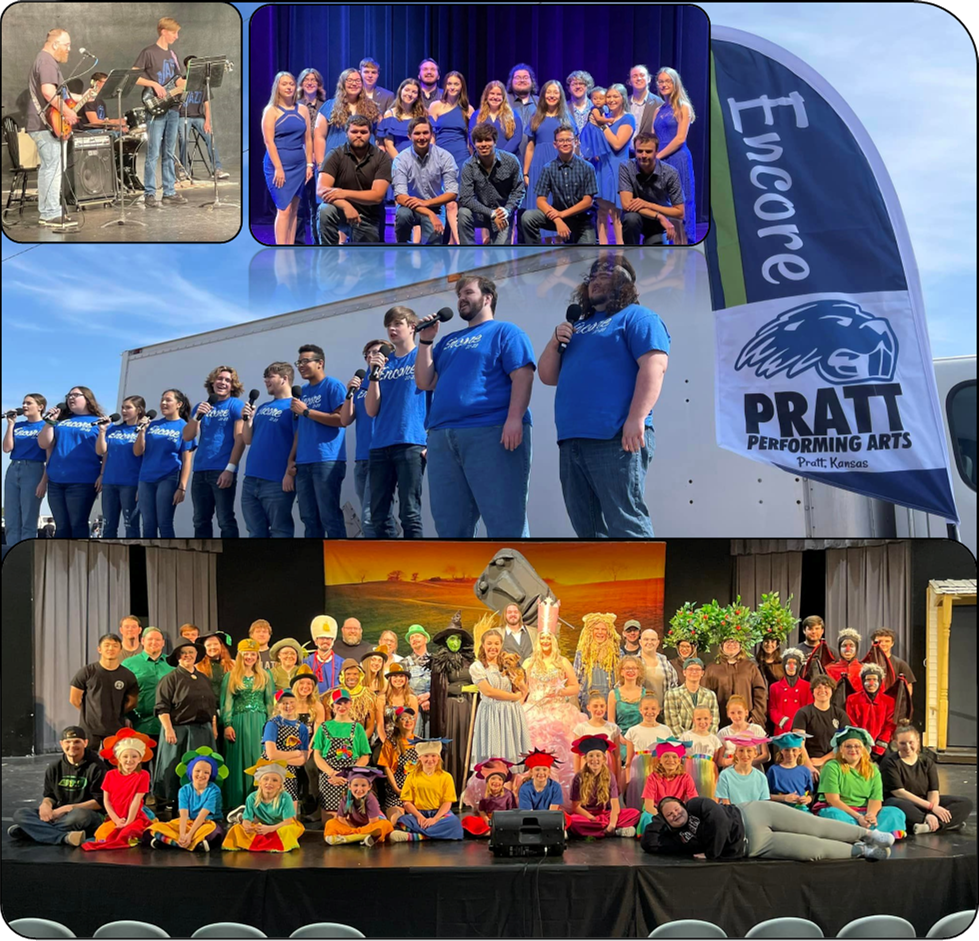 The Performing Arts Department at Pratt Community College is a participation based program. Students of all majors are welcome to participate and are eligible for scholarships.
We have two choral groups - concert/community choir and Encore, a pep band, a jazz band, a music theatre program and a technical workshop program.
Plenty of opportunities are available for performances of all kinds and the design of our program allows a variety of fun, challenging experiences. A variety of scholarship opportunities are available.
Students get to take an annual trip to Tennessee in the Spring to spend time together, have fun and perform in multiple settings. 
Encore! 2023-2024 group


*Photo by Midwest Plains Aerial and Land Photography
2023-2024 Schedule:
Encore Showcase
September 24, 2023 at 2:30pm
Valentine's Dinner and Show
February 11, 2024 at 6:30pm
Matilda the Musical
October 27,28, 2023 at 7:30pm
October 29, 2023 at 2:30pm
Broadway Nights
March 22,23, 2024 at 7:30pm
March 24, 2023 at 2:30pm
Choir & Jazz Band Concert
November 19, 2023 at 2:30pm
Encore Finale Concert
April 21, 2024 at 2:30pm
Christmas to Remember
December 1,2, 2023 at 7:30pm
December 3, 2023 at 2:30pm
Spring Choir and Jazz Band Concert
May 5, 2024 at 2:30pm
Request more info by using the link below or contact a program instructor.
Program Instructors:
Misty Beck | mistyb@prattcc.edu | 620-450-2209
J.J. Rupe | jeremyr@prattcc.edu | 620-450-2183