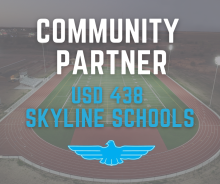 FOR IMMEDIATE RELEASE
DECEMBER 3, 2021
PRATT, KS

Skyline Schools Become Community Partner for the Track and Soccer Complex

Pratt Community College (PCC) and the Management Committee (MC) of the Track and Soccer Complex (TSC) are pleased to announce the addition of USD 438 Skyline Schools as a Community Partner. This milestone means that Skyline Schools will be able to schedule events at the new Track and Soccer Complex located adjacent to the Green Sports Complex in Pratt.

Dr. Michael Calvert, President of Pratt Community College, stated, "We are extremely excited to have Skyline join the Pratt School District, Land and Water Conservation Fund and the City of Pratt as a community partner.  The intent all along was for local and regional entities to become community partners. This is a community facility, and the support by community partners is crucial. The facility is now open for both school districts, Pratt City Recreation and PCC to host exclusive events."

Skyline Superintendent Becca Flowers commented "Skyline Schools appreciates the opportunity to become a community partner of the Track and Soccer Complex. Access to this facility will be a tremendous benefit to our students as they strive to build their athletic skills. Our students, staff and families will especially enjoy the opportunity that Skyline will have to host events at this high quality, centrally located facility." 

Pratt City Commissioner and Management Committee Member, Zach Deeds noted, "This is a refreshing demonstration of civil discourse to address a challenge, both PCC and USD 438 should be commended for their commitment to community."

The Track and Soccer Complex Management Committee released a letter to the Pratt Community in July 2021 regarding the funding and use of the TSC, which can be viewed in its entirety in the press release on the Pratt Community College website.