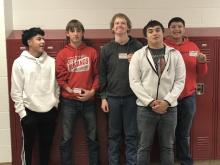 Five high school students from Macksville, KS earned OSHA 10 safety certifications through Pratt Community College.
The students are enrolled in Welding and Ag Power Technology courses, and an OSHA 10 safety certification gives them an important start in industry.
Jessica Neeland oversees the program at USD 351 Macksville.
"OSHA-10 is a lifetime certification, meaning they will not have to renew it. This certification will open up new opportunities for these students even while they are in high school. After passing this course they also have a new understanding of workplace safety and how to possibly prevent accidents from happening on the job."
Congratulations to Roger Ibarra, Thoran Cross, John Mitchell, Isaiah Rose and Fabian Ortiz.
Visit our College Start web page to learn more about Career Technical Education (CTE) courses for high school students through Pratt Community College.