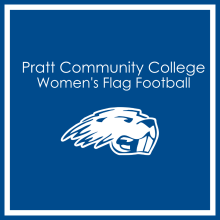 Pratt Community College is recruiting for a new Women's Flag Football Team, with the program season starting March 2023.
 
Pratt Women's Flag Football Open Tryout Dates:
Sunday, April 24th in Pratt at the Track and Soccer Complex
Sunday, May 1st in Wichita at Friends University
 
In the Fall of 2021, Pratt Community College was awarded a $10,000 grant by the National Junior College Athletic Association (NJCAA) towards establishing Women's Flag Football as a competitive sport. The grant is part of a major initiative sponsored by the National Football League (NFL) in promoting Women's Flag Football. The NJCAA has identified women's flag football as an "emerging sport" and is encouraging community colleges to consider adding the program.