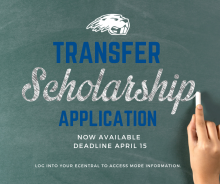 PCC transfer scholarships are endowed funds set up for graduating students who intend to continue their education. A variety of scholarships are available.

 Transfer Scholarships applications are available during the Spring semester each year to graduating students through the eCentral portal.

Fall 2022 deadline to apply: April 15, 2022.

Click here to view Transfer Scholarships that are available.