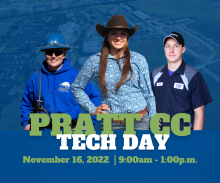 Registration is now open for Tech Day at PCC! Visit our campus and meet directly with faculty members and students currently enrolled in our outstanding Technical Programs!

Tech Day is scheduled for November 16, 2022 from 9am to 1pm.

Interact with several of the different technical programs that PrattCC has to offer!!

A $500 scholarship is up for grabs along with PCC Beaver Gear!

Get registered for Tech Day today! If you have any questions about the Tech Day event, please contact the PrattCC Admissions Office at (620)450-2217 or via email at pccadmissions@prattcc.edu.