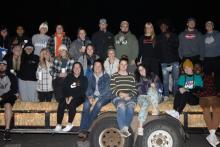 It was one last hurrah for Student Life activities to close out the semester. Ag Power instructor Ralph Williams and student Rhett Sanford volunteered to run the hayride for PCC students to see the Christmas lights at Lemon Park for the "Student Life Sleighs Christmas" event.

Students enjoyed a nice soup dinner on campus before heading to the park, and returned to campus to warm back up with Christmas themed treats.

Ralph's Christmas puns and holiday music on the speaker on top of a well-decorated rig made for a very festive and fun event for our students. A big thank you to Ralph, Rhett and all the volunteers that made this event possible on campus and on site!

The mission of Student Life is to provide students with important learning and life experiences which allows for positive growth intellectually, culturally, and socially.

The planned activities over the 2021-2022 school year have been well-attended and have proven to be beneficial to so many of our students.

"Being in student life activities gives us a chance to meet new people and have some fun outside of our classes & sports. I really like how every activity is different and how much effort everyone puts into it."   -Jacelyn Alyssa Rios

"Student life activities give everyone an opportunity to come out & enjoy things & get out of their comfort zone."   -Bryana Marie Gallagher

"My favorite thing about Student Life is that it allows us as students to come and enjoy activities after a week of school & sports. It allows us to come together & meet new people while participating in fun events."   -Audry Kham Vorabouth

"Student Life is an awesome opportunity to meet new people, it allows us to create a positive and healthy image for the school while having fun. What I love most about Student Life is the commitment to succeeding in each and everything task put in front of us!"   -Tommy Thomas

Come join our fun and close-knit campus community! Visit our Student Life web page to see other activities this year or set up a campus tour to stop by and see us!