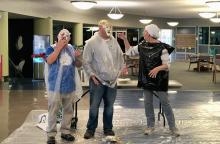 PCC's Phi Theta Kappa (PTK) honor society held a "Pie Your Professor" fundraiser throughout October and November 2022.

PTK invited students, faculty and staff to vote with bills and coins in the Linda Hunt Memorial Library, placing their money into the jar with the name of a desired candidate they'd like to see get a pie in the face. There are two lucky winners in the contest.

Candidate volunteers included PCC faculty members Carol Ricke, Jerry Thompson, John Patton, Angie Tatro and Kip Chambers.

The top two winners receiving the most votes to earn a pie in the face: Carol Ricke and Kip Chambers. But in a pie day twist, Jerry Thompson was also recruited to "pie up".

PCC Student and PTK President Ethan Paris did the initial pieing of Ricke and Chambers, then the two pie-ees teamed up to give Thompson a pie in his face.

PTK sponsor Jason Ratcliffe revealed they were able to raise nearly double the amount raised last year. All funds raised support students in the honor society.

Read more about Phi Theta Kappa on our website.

See video of the pieing event on our YouTube channel.

PTK President Ethan Paris and participating faculty members Kip Chambers, Jerry Thompson and Carol Ricke, Dec 2022.