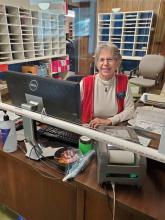 Lorraine Prosser spent 41 years with Pratt Community College.

During her time at PCC, she held positions in the offices of the Registrar, Admissions, Financial Aid, and was most recently always a friendly face at the Switchboard, also known as PCC's grand central station.

A retirement reception was held in her honor on campus to wish her well in her next chapter.

Lorraine plans to work on her health and spend time with family and loved ones. We are grateful to Lorraine and her many years of service at PCC!