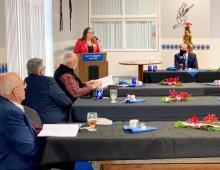 Pratt Community College hosted the 2020 Legislative Luncheon in a socially-distanced fashion on campus.
The Legislative Luncheon is held annually in December with PCC hosting area legislators, both Senators and Representatives, and other community officials. 
Attendees included the PCC Board of Trustees, the college administrative team, USD 382 Superintendent Tony Helfrich, members of the USD 382 Board, and USD 438 Superintendent Becca Flowers. 
Legislative guests were Senator Larry Alley (Winfield -District 32), Senator-Elect Alicia Straub (Ellinwood-District 33), Representative Kyle Hoffman (Coldwater-District 116), Representative-elect Brett Fairchild (St. John-District 113), and Representative-Elect Michael Murphy (Sylvia-District 114). 
Also, attending and presenting the legislative priorities for Kansas community colleges was Heather Morgan, (pictured) Executive Director of the Kansas Association of Community College Trustees (KACCT).
Pratt Community College President Dr. Mike Calvert notes the importance of hosting the Legislative Luncheon.
"It is always good to have legislators on the Pratt Community College campus and in our community, especially newly elected leaders. This year's luncheon brought two new state representatives to campus, Brett Fairchild and Michael Murphy. This meeting allows us to share what matters the most to community colleges across the state and specifically Pratt Community College. The conversation was engaging and we look forward to working with all the legislators in the upcoming 2021 session."