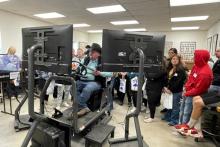 Approximately 185 people joined us on campus at PCC for our Tech Day event.
Tech Day is an opportunity to meet directly with PCC faculty, see our programs and facilities up close and ask questions.
Faculty and staff members from the following programs met with potential students and their families or teachers/counselors on Tech Day:
Accounting and Business
Agriculture
Ag Power Technology (Diesel Tech)
Allied Health (CNA, CMA, Home Health)
Automotive Technology
Electrical Power Technology (EPT)
Information Network Technology (INT)
Welding Technology
Wildlife Outfitting and Operations (WOO)
Guests visited our live shops in Automotive, Ag Power and Welding to learn about what it's like to work in industry and see the hands-on work students are doing in class to train for the workforce. They also got a close-up look at the equipment used in class.
Barrett Smith from the Agriculture department spoke about the urgency and importance of keeping youth involved and working in the Ag industry, and discussed the multiple study paths available. Students also observed the spray rig simulator provided to PCC courtesy of Skyland Grain, and some were able to try it out themselves in an afternoon session with Lori Montgomery.
Allied Health Director Erica Meitler and Laurie Ackerman spoke about taking CNA, CMA and Home Health classes at PCC and took students on a tour of the lab facilities located in Chandler Hall.
The EPT session included a brief fitting for utility belts used in the program and a discussion about the importance of the equipment lineman use in industry. Instructor Jeff Hoffman also talked about industry working conditions, stating that "The power rarely goes out in nice weather."
INT instructor Chris Nelson asked attendees how many microprocessors they would guess they had in their pockets. It was discovered it's likely many more than two. Phones, credit cards, air pods, fitness watches, key fobs and many more items are all microprocessors because they contain chips. This also led to a discussion about job security when it comes to data protection, with many large companies named.
Students in the Accounting and Business session met with instructors Angie Tatro, Carol Ricke and John Patton and did an exercise with balloons. Each attendee's name was written on a balloon and they had to navigate around the room to find their balloon. The activity was timed to illustrate the importance of communication and teamwork in completing a task.
Welding instructor Daryl Lucas introduced the new Welding Technology shop to visiting students. A guided tour was provided at multiple work stations, with a demo and explanation of the machinery in the shop. Student projects were also on display for viewing, as well as work created for real clients by PCC Welding.
Tech Day concluded in the afternoon after having lunch, catered by Great Western Dining. Families who wished to stay longer to visit Financial Aid, Student Success or Residence Halls were invited to do so.
A drawing was held during lunch to choose the winner of a $500 PCC scholarship, and the winner was Cash Tomberlin! Cash is a 2023 graduate from South Barber, KS who came to Tech Day to learn more about our Welding program. Congratulations Cash!
Individual tours are also available to those unable to make it to a Tech Day group event. We'd love to have you on campus! Set up a tour for any program on our website prattcc.edu/tour or call 620-450-2217.
View the full Tech Day photo album on Facebook.