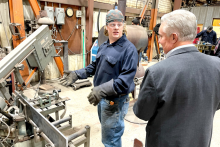 Pratt Community College held an open house on November 15, 2022 to showcase the newly remodeled PCC Welding Technology facility. The shop is located in Pratt, Kansas in the Pratt Regional Airport Industrial Park in the space formerly occupied by Pioneer Tank and Steel.
A ribbon cutting was held shortly after remarks by Kent Adams, VP of Finance at PCC and PCC Welding faculty member and program lead Daryl Lucas. Lucas was instrumental in the many processes of bringing back the Welding program in 2021, obtaining the facility, getting it ready over the summer of 2022 and getting multiple equipment stations in place for classes to begin for Fall 2022.  Lucas noted the support from his advisory board as instrumental in the program's growth and success.
Pratt Area Chamber of Commerce Executive Director Ashley Smith presented Lucas with a commemorative item to honor his efforts; a Mr. PCC Welding sash, which he donned for the duration of the open house.
Current PCC Welding students stole the show at the event. They performed work at each station in the shop, explaining the machines and answering questions from attendees. Completed student projects were on display for viewing, as well as work pieces created for real clients by PCC Welding.
The property also allows outside and inside space for a Forklift Certification course; in addition, the Electrical Power Technology (EPT) program uses the outside area as a practice driving course for students who are in the process of earning their Commercial Driver's License (CDL). Attendees were able to observe welding students demonstrate forklift driving on the course while EPT instructor Jeff Hoffman drove utility vehicles on the EPT course to highlight the property's use to other programs. 
PCC welcomed officials from a large number of organizations within Pratt County and the State of Kansas.     
Guests included City of Pratt Commissioners Zack Deeds and Jeanette Siemens, Pratt City Manager Bruce Pinkall, County Commissioner Tom Jones and PCC Board of Trustees members Ed Barrett, Eric Scott Killough and Mike Koler.
Pratt USD 382 leadership in attendance included Steve Blankenship, Tony Helfrich and David Schmidt.
Officials from the Kansas Board of Regents (KBOR) Technical Education Authority (TEA) included Chair Ray Frederick and member Mike Johnson.
Joining us from the President's Advisory Council (PAC) were Jeremy Doggett and Chris Himmelwright.
Also joining us at the PCC Welding facility were Kansas Senator Alicia Straub and Representatives Susan Humphries, Michael Murphy and Gary White.
PCC Welding Advisory Board members included Keith Ray, Doug Ray, Pat Peterson, Shane Rose, Mike Pina, and future advisory member and graduate Ryan Rose.
PCC is pleased to introduce the Welding Technology program in its new location. In addition to instruction, PCC Welding forms partnerships with other local businesses to complete projects and operates a Steel Sales operation for student training.
To learn more about the Welding Technology program at PCC, visit our website at prattcc.edu/weldingtechnology 
View the full photo album from the event  on our Facebook page and view a video from the Welding Open House on our YouTube channel to see our students in action!