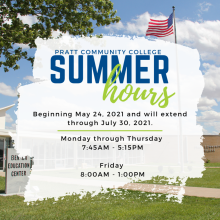 Summer 2021 hours for campus offices at Pratt Community College have been designated as follows: 
 
Summer hours begin Monday, May 24, 2021 and will extend through Friday, July 30, 2021.
 
Operating hours are: 
7:45 a.m. – 5:15 p.m.  Monday through Thursday
8:00 a.m. – 1:00 p.m. on Fridays 
Please plan accordingly for the short business day on Fridays. 
For more information about PCC please call 620-672-5641. For information about enrollment and campus visits please contact the admissions office at 620-450-2217.