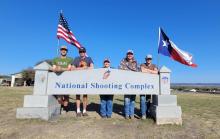 *Information and photos provided by Shooting Sports Coach Rocky Robinson.
The Pratt Community College shooting team competed at the ACUI National Shotgun Championships in San Antonio, Tex. last week. Several students carded their personal best scores at the nation's largest collegiate shooting competition.
Shooters competed in six different shooting events, all scored out of 100. PCC falls in Division 4, competing against much larger, four-year universities. The Beavers started out the week on doubles American trap. Sophomores Kaitlyn Huck and Jack Pohlman led the squad, shooting 74s, followed by Connor Oneal, carding 73. John Hubbert broke 71 out of 100 targets and Nicholas Hibbard struggled in the wind, scoring a 61. The team shot a 353, placing them eighth in the division.
Wednesday had the squad competing in some of their best events, American trap and American skeet. Huck shot her second-best round of the year, only dropping six targets for a 94. To medal individually, you must fall in the top three shooters across all divisions which consisted of over 1,200 shooters from across the nation. Huck's 94 put her in a five-way tie for 13th place. Pratt placed 12th in the event with a team score of 423.
That afternoon the team shot American skeet with Oneal leading the team, breaking 84 targets and putting him in a nine-way tie for 223rd place. Hubbert broke 78 targets, Pohlman recorded his personal best with a 76, Hibbard shot a 74 and Huck rounded out the team shooting a 68. The team placed 11th in the event.
Pohlman came out swinging on a very hard super sporting clays course Thursday afternoon. His 85 put him in an eight-way tie for 42nd place. For reference, his eight-way tie was with two shooters from Clemson and one from Texas A&M. Oneal also shot well, breaking 80 targets. Hubbert carded a 71, Hibbard a 60 and Huck a 42.
The Beavers struggled on the sporting clays course Friday afternoon. Temperatures started to reach the 90s and it was reflected on the score cards. Hibbard worked through several gun malfunctions to lead the team with a 64, Oneal shot a 63, Pohlman a 62, Hubbert a 49 and Huck a 47 for a team score of 285. That score was still enough for 11th place, edging out Southwestern Community College, Saint Leo University, State Fair Community College and the Cowley trap team.
Pratt shot their final event Saturday morning, doubles American Skeet. As a team they broke 359 targets, placing them eighth in the division. Hubbert shot his best rounds of the week, breaking 82 targets. His efforts put him in a 15-way ties for 137th place.
Learn more about Shooting Sports at PCC on our website.
PCC Shooting Sports Team at ACUI Nationals, San Antonio, Texas, March 2022.