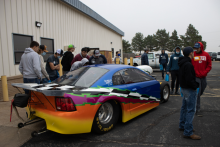 Aaaand we're back! PCC hosted Tech Day on campus at PCC and it was a big success!

Reported program favorites from participants: checking out Automotive's race car, "dressing for the future" in EPT lineman gear and the firing up of the big noise machinery in Ag Power.

Potential students got to meet with faculty and students who are currently enrolled at PCC and participate in an Q&A session. Pratt Community College President Dr. Michael Calvert also gave an overview of life at PCC.

Tech Day participants were entered into a drawing for a $500 scholarship, and the winner was Demarion from Medicine Lodge. He visited PCC to learn more about our Information Network Technology (INT) program. Congratulations Demarion!

PCC has so much to offer in the way of degree and program certificates to get you on track for a positive change! There has never been a better time to invest in your skills! See a vast list of all of our offerings at PCC and set up a campus tour with us today!