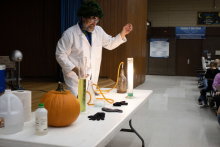 "I loved the woosh!", said one Skyline student.
Melissa Jacobs' sixth grade science class at Skyline Middle School was thrilled to observe Pratt Community College science instructors scrambling around the stage at their school in their crazy hair, showing the wonders of science just before Halloween.
This woosh, in particular, happened when ethanol vapor combusted inside a large plastic jug and rushed out.
Another favorite moment from the Science Show: elephant toothpaste. Students reacted when the formula quickly shot into the cold Kansas wind.
"WHOAH!!!"
It's hard to tell who's having more fun during a PCC Science Show. Ghumm had a blast performing the demonstrations and inviting the students to join in. 
"We were privileged to demonstrate some flashy science for about thirty wide-eyed sixth graders outside the Skyline school gym. Kids came up to make glowing worms, bounce C02 soap bubbles on their hands, and pass the shocking fun of the Van de Graff generator onto their friends in a line of hands."
Primrose and Ghumm, along with pre-show prep assistance from fellow PCC science instructor Justin Maughan, inspired the students to jump in and ask questions and have conversations about the experiments between themselves. It was all about the science.
The enthusiasm from both the scientists and the students made for an exciting morning at Skyline. Sixth grade science teacher Melissa Jacobs was thrilled at the results from the visit from PCC, suggesting Ghumm and Primrose return every year.
It's possible there may be a 2022 Spooky Science Show in the works.
Visit our Mathematics and Science program page for more information about our science programs.
Science Show at Skyline by PCC Instructors Paul Primrose and Jason Ghumm, Oct 2021.