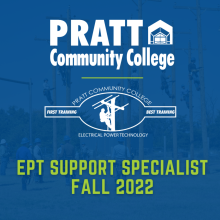 FOR IMMEDIATE RELEASE
MARCH 10, 2022
Pratt Community College has an outstanding Electrical Power Technology (EPT) lineman training program with four campus locations across Kansas in Pratt, Wichita, Dodge City and Coffeyville.
Brand new for Fall 2022, Pratt Community College announces an additional pathway available on the Pratt campus, the Electrical Power Technology Support Specialist (EPTSS) program.
The EPTSS program provides students with broader career options that do not involve aspects of EPT lineman training, such as pole climbing. There are numerous jobs in industry that provide vital support to lineman work.
EPT Support Specialist students will receive training that prepares them for a start in any of the following career pathways: System Control, Substation Technician, Underground System Crewman, Overhead System Groundman, Warehouse & Stores, and Customer Service.
Vice President of Instruction Monette DePew is pleased with what the new major will bring to the EPT program, and to PCC.
"Phillip "Dave" Campbell has been the driving force (or should I say electrifying force) behind creating this major, with support from fellow instructors and industry partners. This new aspect of our EPT program will increase enrollment in the EPT program and overall enrollment at PCC. This major is also included as an option for students who qualify to access Promise funds through the state of Kansas."
EPT Program Director Phillip "Dave" Campbell is proud to expand the program and welcome a wider range of students.
"I am very excited about the career pathways that the EPTSS Major opens up to anyone who is interested in delivering electrical power to our nation. This is not a job, this is a career and it is true service work. Students can choose the pathway that fits them best and every job is important. Working in Electrical Distribution has always been about being a part of something bigger than ourselves. Come join us!"
Scholarships are available for both programs as Departmental Academic Scholarships through PCC, and also for the Kansas Promise Scholarship through the state.
Pratt Community College is enrolling now for Fall 2022 for the EPT and EPTSS programs!
The first step is setting up a tour of the Pratt Campus with EPT instructors and Admissions Recruiter Ashlyn Hatley. Visit our website to learn more about the pathways in Electrical Power Technology and available tour dates.