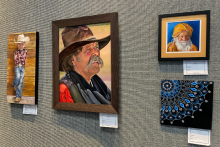 The Kansas Art Guild was formed in 1977 to support local creatives and offer a community where artists could meet and share ideas. 

Artists from all experience levels continue to meet once a month to learn from one another, as well as other well-renowned artists through critique and demonstrations. Guild members exhibit their artwork throughout the year in Kansas venues to display the work of their artists and share in the recognition.

Pratt Community College is proud to feature a Kansas Art Guild exhibit on campus in the Delmar Riney Art Gallery through November 18, 2021. 

The art gallery is open during business hours from 9 am to 5 pm or by arrangement.

Please stop by to support the work of Kansas artists. Most of art is available for purchase and some artists are also available for commission.

Visit the Kansas Art Guild website for more information on the Guild, or individual artists.

Kansas Art Guild Exhibit at Pratt Community College, September 2021.