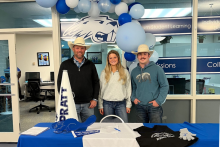 Reach Coach Ritz by email at jaker@prattcc.edu
If you follow us on social media, you've likely seen several pictures of students signing with the PCC Rodeo Team for the 2022-2023 academic year.
The students are pictured next to Jake Ritz. who has a long history in the Pratt community and joined PCC upon the retirement of decorated and long-time Rodeo coach Rocky Patterson in Spring 2022. We interviewed Coach Ritz to reintroduce him to the Pratt community.
Tell us about your history and previous experience with Pratt Community College and what you bring to the table at PCC.
I came to PCC in 2002 and was a member of the rodeo team. I received 2 Associates Degrees (Farm and Ranch Management, and Animal Science ). While at PCC I also furthered my education and received a Bachelors in Tech Leadership from Fort Hays State University. I was the student director for central plains region which gave me another year of eligibility.
During my 5 years at PCC, I qualified for Great Lakes circuit finals in PRCA, Roy Duvall 19 and under steer wrestling champion, Central Plains reserve steer wrestling champion, and 3x CNFR qualifier. With the skills and information that I have obtained in last 20 years from college and operating a construction company, I believe I bring a goal oriented, and strong mindset to help and share with the program.
What do you feel is key in recruiting for the Rodeo team? What do you look for in a student that tells you they are a good fit?
One key I look for is how they act outside the arena. How they carry themselves, win or lose shows true character. Ones that want to be here and are willing to work at their skills make mine and any other coaches job easy.
What specifically about Pratt and/or Pratt Community College brings you back to us?
I live in this community, I never left. This community has been great to me and has allowed me to support a family. I want to give back, and be a positive influence on others lives.
What is something about you people may not know?
I'm originally from Michigan.
What are your personal accomplishments in Rodeo?
Along with what is listed above. After college I was the central plains rodeo association steer wrestling champion, finals champion, Kansas professional rodeo association reserve champion, many other Amateur rodeo event winner. For couple years I was member of Osage steer roping association... won couple events there and was an active board member.
Do you live in the Pratt area? Tell us about your background and family.
I live between Preston and Iuka, my kids Lainey And Wyatt both enter and compete in many rodeos. I've been doing construction, wife Hannah used to work at PCC, now she works at Elementary school. We raise a lot of goats.
Feel free to add anything else you want to talk about as it relates to PCC Rodeo.
Stepping in and taking over for Rocky Patterson are some very big shoes to fill. I'm looking forward to this opportunity and build this program.