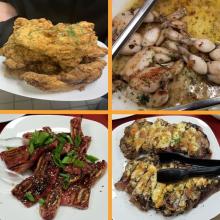 One of the nice perks to taking classes in the Agriculture program at Pratt Community College? The Elements of Meats class.
Ag instructor Lori Montgomery treated students to two delicious sessions of meat tasting, in partnership with resident chef Joshua Mireles, who runs the Great Western Dining hall on campus. Exotic meats were at the top of the list.
Menu items during the first tasting session included buttermilk fried frog legs, white wine & herb-sauteed frog legs, deep fried alligator wings, prime beef rib eye, choice beef filet, beef flat iron steak, sous vide kangaroo loin and grilled kangaroo loin steak, the latter imported from Australia.
Mireles also talked with students about different cooking styles and the preparation of meats with different textures to enhance the taste.
A second taste panel included Kansas-raised Kobe beef direct from Booth Creek Wagyu of Manhattan, KS, sesame ginger short ribs and seared flank steak with chimichurri sauce. To compare to round one taste panel selections, they sampled a Blue Cheese crusted KC strip steak along with Mozzarella & Parmesan stuffed chicken.
Prior to the second tasting, Ag instructor Lori Montgomery lectured on the use of cure and seasonings in sausages and comminuted meat products. They tasted samples from bacon, bologna, braunschweiger, peperoni and salami. A variety of sausages were served with mustard sauces for seasoning comparisons in turkey, smoked beef, polish kielbasa, boudin and andouille.
"It was a great way to experience flavor, texture and how cooking style enhances palatability on animal proteins. Chef Josh presented us with some outstanding dishes to help us develop our palates, examine texture and compare seasonings, cure methods and sausage types. The students thoroughly enjoyed these taste panels and we appreciate the extra effort the cafeteria staff puts forth to present these products for us!" 
Mireles enjoys being able to use his culinary skills to further the learning experience.
"Here at Pratt Community College our relationships go beyond the everyday dining experience. Our goal was for the students and staff to experience the WOW factor with our dining collaboration, expand their dining horizons to new and exotic meal techniques & preparations."
The Elements of Meats class will also experiment with 5 different types of ground meats to make jerky in the classroom.
The Agriculture 245 Elements of Meats class is also offered for Fall 2022! Learn more about our Agriculture program on our website.