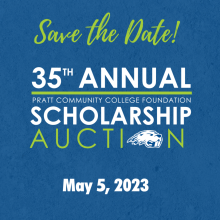 Save the date! The 35th Annual Scholarship at Pratt Community College is set for Friday, May 5, 2023. Doors open at 6pm, with dinner served from 6:30 to 7:30 and live auction beginning at 8pm.
The money raised awards approximately 90 students with scholarships. PCC offers departmental scholarships, athletic scholarships, summer student scholarships, veteran scholarships, diversity incentive grants, the Pratt County Senior Grant to all recent high school graduates of Pratt County and the Presidential Above and Beyond Scholarship, in addition to privately funded names scholarship funds.
Check back to our Scholarship Auction web page for more details and the catalog of items coming soon!