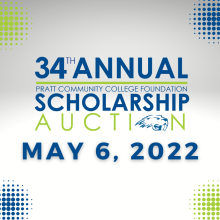 The 34th Annual Scholarship Auction is scheduled for May 6, 2022.
The Scholarship Auction will be back on campus this year at Dennis Lesh Sports Arena, and all funds raised will support PCC Scholarships. The money raised is utilized as funds awards to approximately 90 students.
To reserve a table or purchase tickets contact Donna at 620-450-2240 or email at donnamp@prattcc.edu 
If you are interested in being a sponsor for the auction, contact Barry Fisher at 620-450-2179 or email at barryf@prattcc.edu
Be sure to check out the Scholarship Auction website to view items that are up for bid in the auction catalog!