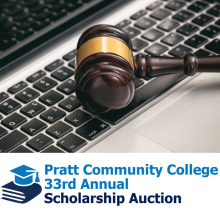 The 33rd Annual Scholarship Auction is set for May 7, 2021 at 7:00pm. The PCC Foundation will host the auction in a virtual format, with both a silent auction feature and live bidding.
Sponsors are lining up and great items are being added every day. You may register for the auction, view sponsors and view the auction items that will be available for bid on the auction website.
Proceeds from the auction fund scholarships for students to help make education more affordable for all.  
PCC offers departmental scholarships, athletic scholarships, summer student scholarships, veteran scholarships, diversity incentive grants, the Pratt County Senior Grant to all recent high school graduates of Pratt county and the Presidential Above and Beyond Scholarship, in addition to 99 privately funded named scholarship funds.
Learn more about the PCC Foundation's Annual Scholarship Auction on our website.