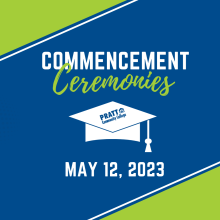 2023 Commencement Ceremonies will be held at Dennis Lesh Sports Arena on Friday, May 12, 2023 at 1pm and 3pm.
The 1pm Ceremony is for AAS graduates and Certificate programs. The 3pm Ceremony is for AA, AS, and AGS graduates.
Cap & Gown pickup:  May 9-11 in the Benson Commons Area between 1-4pm. (It is not alphabetical by last name as in year's past)
The ceremony will be live-streamed at gobeaversports.com/links/LiveBroadcasts and professional photos will be taken and available for purchase at gradimages.com.
Graduates should report to Carpenter Auditorium at 12:30 for the 1pm ceremony and 2:30 for the 3pm ceremony to line up for the processional. Graduation regalia is required.
*Ceremony details are subject to change. If any changes should occur, students will be notified internally and the information will be shared to social media.
For additional questions about Commencement, please contact the Registrar's Office at 620-450-2221.