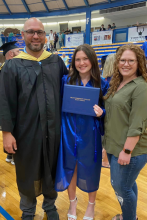 Pratt Community College welcomed more than two hundred graduates and their families to campus on Friday May 12, 2023. Two ceremonies were held at 1pm and 3pm.
PCC graduate Randi Hoffman walked in the 3pm Commencement ceremony with an Associate of Science degree in Biology...and then graduated from Skyline High School a few days later.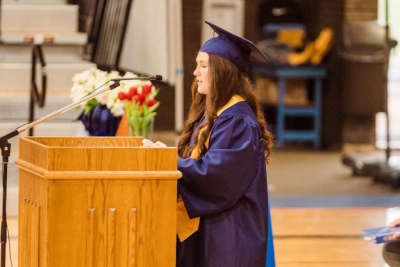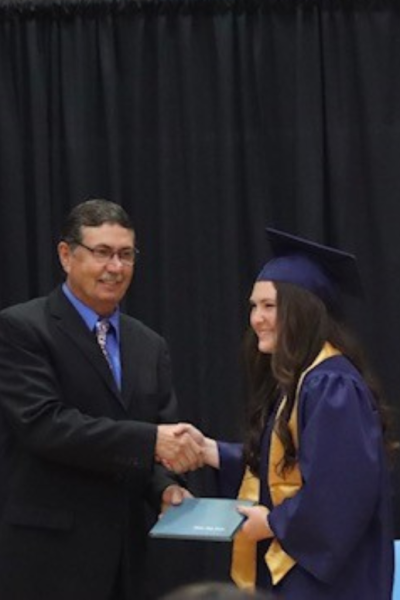 Hoffman began taking college courses through PCC's College Start program to gather general education credits as a high school student. She soon realized she would be able to earn enough credits to be able to attain an associate's degree at the same time she would complete high school.
Hoffman also participated in sports and extracurriculars, was given the Citizenship Award from Skyline High School, and graduated with honors from both institutions.
"It was really helpful that I was able to incorporate PCC classes into my high school schedules so that I could work on classes during school or go out to the campus. I think that it is really beneficial to start taking college classes while in high school.  It can help students get into the workforce faster."
Hoffman plans to continue her education at Wichita State University in Exercise Science on a Pre-Physical Therapy path, attend grad school and ultimately move back to the Pratt area for employment.
You may recognize the man standing next to her in faculty regalia at PCC's graduation. Proud dad Jeff Hoffman is an instructor in the Electrical Power Technology program at PCC.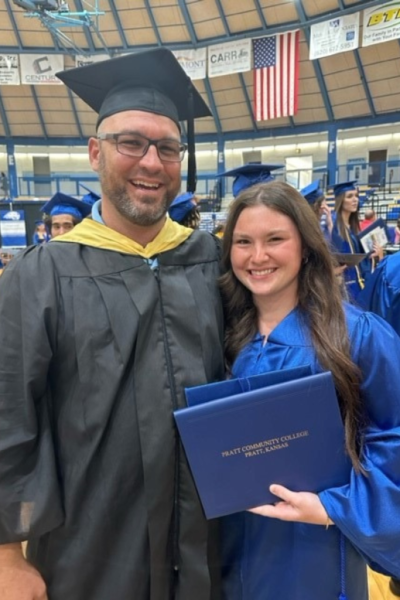 Congratulations to Randi Hoffman on all of her accomplishments, and all the PCC grads as they made waves toward their #DamGoodFutures! 
Learn more about getting started with PCC's College Start program on our website.