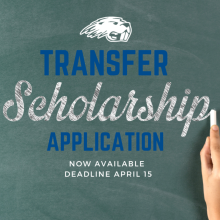 For students graduating from PCC in May 2023 planning on transferring on to another institution, there is scholarship money available!
The Transfer Scholarship Application is now live on eCentral. The deadline to apply is April 15.
Please contact Financial Aid for questions at finaid@prattcc.edu or 620-450-2247.
View Transfer Scholarship flyer here.