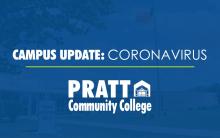 Pratt Community College is closely monitoring the ongoing situation involving the Coronavirus (COVID-19) situation. Given the uncertainty of the circumstances, PCC is taking proactive steps to help ensure the health and safety of our students, faculty, staff and community. We are also taking measures to ensure the quality of academic services for the remainder of the semester.

On Wednesday March 11, the Kansas Board of Regents held a special meeting, during which it consulted with Dr. Lee Norman (Secretary of KDHE), in an effort to address system-wide planning for the COVID-19 situation. A copy of KBOR's press release announcing the official action taken, along with additional information, can be accessed at the following location: https://www.kansasregents.org/about/news-releases/2020-news-releases/74…

With this in mind PCC's Emergency Management Team, including Administration, has made the decision to extend Spring Break (regularly scheduled for March 16-20) through March 30, 2020 so that PCC faculty and staff have opportunity to prepare for transition to an online format. All PCC classes will be transitioned to online delivery starting Monday, March 30, 2020 for the remainder of the semester. Classes will continue in this mode indefinitely and the College will re-assess on a weekly basis. All current, in-progress, online courses will resume as normal after Spring Break (March 23, 2020). Additional issues surrounding clinicals, labs and technical programs will be addressed in their respective departments. This effectively means that, after the conclusion of spring break, faculty and students should be prepared to transition all face-to-face classes to online delivery only.

In conjunction with this change in course delivery following spring break, and in the interest of taking additional health measures to reduce risk, all Residence Hall students are encouraged to make preparations to officially check-out of their respective rooms and not return for the semester unless otherwise directed to. Please refer to the Residence Halls statement below for action concerning Residence Halls.

PCC programs and classes offered at off-campus locations throughout the state, including Wichita, Dodge City, Coffeyville and Winfield are instructed to follow protocol of their respective locations.

All PCC staff should report to work as usual March 16, 2020 unless otherwise directed by a supervisor. Faculty will return March 23, 2020 to work on the transition of classes to online. Employees are expected to continue working during this period, observing proper health protocols and with any necessary modifications approved by supervisors.

Pratt Community College Athletics is following direction from the KJCCC. A statement was released on Thursday March 12, 2020 cancelling all regular-season competition for all teams effective Friday, March 13 through April 1. PCC will keep a close eye on the direction of the KJCCC and if athletic events resume during the Spring Semester we will determine the best course of action as appropriate.

We understand that a lot of questions and concerns will arise with the decisions made and we will continue to update progress as determined. PCC will continue to update the webpage prattcc.edu/coronavirus and encourages students, parents and interested parties to utilize this webpage for the most up-to-date information.

For the most up to date information about this illness we are using the following resources for information and guidance.
As we have stated we will continue to monitor the status of the situation and will be posting regular updates concerning campus opperations including Residence Halls, classes, athletics and more. Thank you for your patience and understanding at this time.

Dr. Michael Calvert
President, Pratt Community College
UPDATE Tue, Mar 17, 2020 - 2:26 PM: PCC operations update amid COVID-19 pandemic
Pratt Community College President Dr. Michael Calvert updates the PCC community about college  operations moving forward.

"Please know that our administrative team is meeting on a daily basis to discuss this ever-evolving situation," said Calvert. "The utmost goal of our actions is to protect students, faculty, staff and the general public, by doing our part to contain and mitigate the spread of the virus."

PCC will continue to update the webpage prattcc.edu/coronavirus and encourages students, parents and interested parties to utilize this webpage for the most up-to-date information.

Employee Travel Restrictions
Effective immediately and until further notice all college-related travel is prohibited unless approved by the president.
All personal out-of-state travel and air travel is strongly discouraged.
Employees who have recently returned from travel need to review and follow CDC guidelines and communicate with your supervisor prior to returning to campus.
CDC does not generally issue advisories or restrictions for travel within the United States. However, cases of COVID-19 have been reported in many states, and some areas are experiencing community spread of the disease. Crowded travel settings, like airports, may increase your risk of exposure to COVID-19, if there are other travelers with COVID-19. There are several things you should consider when deciding whether it is safe for you to travel (https://www.cdc.gov/coronavirus/2019-ncov/travelers/travel-in-the-us.ht…).
Recruiting Restrictions
All face-to-face recruiting shall be halted until April 15; that decision will then be re-assessed. This includes PCC's campus, high school campuses, other sites, etc. 
Recruiting efforts via email, text, social media, teleconferencing etc. need to be expanded and intensified.
Coaches may continue to have students sign LOIs through virtual or other alternative means (no face-to-face signings).
Early Enrollment for Summer and Fall 2020
Enrollment for Summer and Fall 2020 starts Monday, March 23, 2020; Effective on March 23 you can find the Course Schedule for both Summer and Fall 2020 on our website at /CourseCatalog.
Current and/or returning students will need to contact their advisor via phone or email for instructions and assistance. Please see the Contact Directory on the website at /contact-directory for email addresses and phone numbers.
New to PCC students can contact their Admissions Representative. Please see the Admissions Recruiter page on the website at /student-services/find-your-recruiter for email addresses and phone numbers.
Campus Closed to Public
Effective Tuesday, March 17, 2020 at 5 p.m., the PCC campus will be closed to the general public until further notice.
PCC employees coming to work must use their keys to open outside doors and make sure to lock doors behind them.
Employee Information
Tele-commute options and resources are being discussed. Supervisors will provide more information as it becomes available.
10 person recommendation is advised per the CDC: https://www.cdc.gov/coronavirus/2019-ncov/community/large-events/index….
Maintenance is taking extra precautions for cleaning and disinfecting areas, following CDC recommendations.
Residence Hall students will be moved to a central residence hall and the cafeteria will continue to serve as long as we have resident hall students on campus.
Controlled and pre-arranged small groups of students completing classes will be allowed per department.
Job search interviews will be done via teleconferencing. 
Campus Events
All college events currently scheduled on-campus are subject to review and/or cancellation with at least a month's (30 days) notice whenever possible. Prior to cancellation, consult with VP/AD/President.Communication with Students
Current students can expect communication from PCC concerning transitioning to online or alternative class formats on or before Friday, March 27, 2020.
Student interviews for acceptance into Fall 2020 Electrical Power Technology and Nursing programs at all sites will be done via teleconferencing.