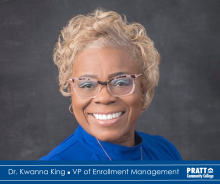 FOR IMMEDIATE RELEASE
JULY 12, 2023
PRATT, KS. Pratt Community College announces the appointment of Dr. Kwanna King as Vice President of Enrollment Management.
The hiring committee began a search for the position of Vice President of Students and Enrollment Management in March, as Lisa Perez-Miller announced her retirement effective November 2023.
Dr. King joins Pratt Community College from the position of University Registrar at the University of Wyoming in Laramie, WY, a position she held for four years. Before her tenure at the University of Wyoming, Dr. King served eight years in Enrollment Management at Connors State College, a two-year community college in Oklahoma.
Dr. King holds a bachelor's degree in business from Bacone College, a master's degree in Human Relations from the University of Oklahoma, and a doctorate in Higher Education Leadership from Maryville University of Saint Louis.
Dr. King brings her acumen and accomplishments in educational administration, student records security, projects in technology and process improvements, budget governance, and practices in elevating the student experience and retention to Pratt Community College.
"I am honored to serve as the Vice President for Enrollment Management at Pratt Community College. I am proud to work alongside a dedicated and empathetic group of staff, faculty, and Board members who are deeply committed to providing exceptional educational opportunities to our existing and future scholars. With over 14 years of experience in higher education, I have been privileged to lead significant initiatives that prioritize the needs of both the students and the institution. I am excited to contribute my expertise and strategic thinking skills to help Pratt Community College continue to thrive in the 21st century and beyond while upholding our longstanding tradition of excellence."
As the VP of Enrollment Management, Dr. King will oversee the offices of Admissions, Student Success, Registrar, Marketing, Student Life, Residence Life, College Health and serve on the President's Cabinet.