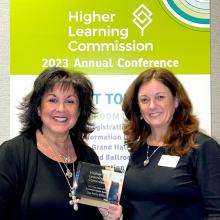 FOR IMMEDIATE RELEASE
May 18, 2023
The Higher Learning Commission recently announced the recognition of several HLC Peer Corp members for awards at the Peer Corps Luncheon held in March during the 2023 HLC annual conference and Peer Corps Program at the Hyatt Regency Chicago.
Lisa Perez-Miller, Vice President of Students/Enrollment Management at Pratt Community College was awarded the Essential Leader Award. Perez-Miller is shown above, left with Patricia Newton-Curran, Vice President of Systems and Accreditation Services.
The Peer Corps awards are presented in recognition of exemplary volunteer service in areas key to HLC's success. Recipients of the Essential Leader Award are nominated and chosen by HLC staff. These reviewers have contributed significantly to the development of a new program, training initiative or process function. They provide HLC with invaluable feedback and field-based perspectives that are crucial to the success of such projects.
HLC maintains a Peer Corps of approximately 1,600 faculty, administrators and staff who are currently employed by or recently retired from colleges and universities in the United States. Peer reviewers play an incredibly important role in all stages of the accreditation process. They are responsible for assuring that an institution is complying with the accreditation criteria as well as for helping an institution advance within the context of its own mission.
"HLC relies on the work of peer reviewers. They have an essential role in assuring the quality of our member institutions, and we thank them for all that they do daily," said Barbara Gellman-Danley, president of HLC.
Perez-Miller has been a member of the HLC Peer Corps since 2014. She serves as a team chair, was a member of the 2023 Advisory Group for planning the 2023 Peer Corps Day of professional development and training, and was a session presenter at the annual meetings in 2022 and 2023. Perez-Miller was a member of the Peer Corps Committee on Diversity from 2018 to 2022.
"I was very surprised and honored to receive this award and be recognized by the Higher Learning Commission. Being a member of the HLC Peer Corps is a tremendous responsibility, but an amazing opportunity to work with higher education professionals from across the country. It is a privilege to serve and also represent Pratt Community College and Kansas higher education professionals," noted Perez-Miller.