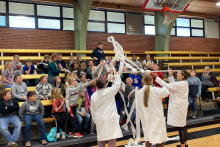 Have you heard the news? Pratt CC has a new student-led STEM club ! And they're taking the middle school science circuit by storm teaching all about Science, Technology, Engineering and Math.
PCC students Bella Crowell, Marcus Pollard, Kailey Barnard, Max Moreno and Maddy Reeves traveled to Cunningham, KS to put on a science show for 4th, 5th and 6th graders along with PCC science faculty Paul Primrose, Jason Ghumm and Justin Maughan.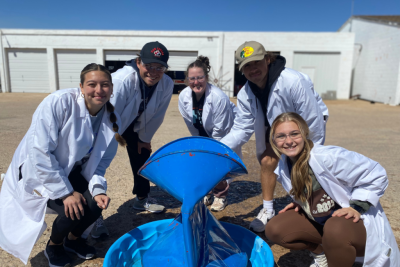 You don't have to look far for all the ooh's and ahh's that come with popular experiments like Elephant Toothpaste and doing "tricks" like expanding marshmallows or balloons, holding hands to see if you can feel the static electricity or make your hair stand on end, make toilet paper fly with a leaf blower, and/or imploding a barrel.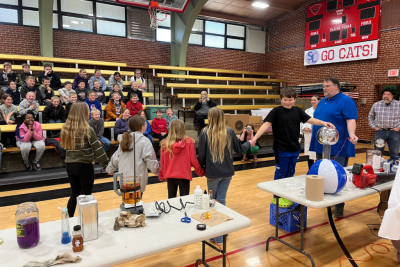 The observers jump right in to give theories and expectations of what might happen next.
PCC students and Science faculty have traveled to many area schools for the love of science and have just as much fun as the kids that watch.
Interested in having our mad scientists at your school? Contact Paul Primrose at paulp@prattcc.edu
Visit our Science and Mathematics page on our website to see more great photos of videos of science in action! Visit our Facebook Page to see this video on social media!