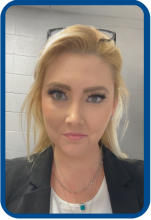 Pratt, KS, 11/13/2023 — Haley Lindsey, Director of Financial Aid at Pratt Community College, has earned the FAAC® designation from the National Association of Student Financial Aid Administrators' accredited Certified Financial Aid Administrator® (CFAA) Program.
"I have had the pleasure of working with Haley from the time she started at Pratt Community College, as a new college graduate. She exhibited a strong desire to excel as a Financial Aid Director from the beginning by her willingness to devote considerable time and effort to training and working with other financial aid professionals to gain the knowledge to thrive at Pratt Community College. The FAAC designation simply proves the high level of financial aid knowledge and understanding Haley possesses. I am very proud of Haley on her professional accomplishments." Kent Adams – Vice President of Finance and Operations.
The CFAA Program is a first-in-the-industry effort launched in 2019 that validates the skills and knowledge of financial aid professionals at postsecondary institutions nationwide. NASFAA is a nonprofit membership organization that represents more than 29,000 financial aid professionals at approximately 3,000 colleges, universities, and career schools across the country.
Lindsey joins the ranks of an elite group of almost 500 other financial aid professionals who earned the FAAC designation in the Nation and among the first 20 in the state of Kansas. 
"Financial aid administrators are entrusted with significant responsibility, ranging from ensuring college access for students to protecting the reputation of an institution and maintaining the integrity of federal financial aid programs," said NASFAA President & CEO Justin Draeger. "The FAAC designation affirms the professional commitment of a financial aid administrator not only to those responsibilities, but also their commitment to uphold the highest ethical standards." 
Lindsey has been in financial aid for almost ten years, currently serving as the Director of Financial Aid at Pratt Community College. She started as a Financial Aid Counselor in 2014 and over the years progressed to the Director position. She has been active in both state, regional, and national financial aid associations. She holds a Master's Degree in Higher Education Student Affairs and is currently working on her second Master's Degree in Community College Leadership through University of Arkansas. 
More information about the certification program may be found at nasfaa.org/certification_overview, or by contacting NASFAA's certification program staff via email at certification@nasfaa.org.