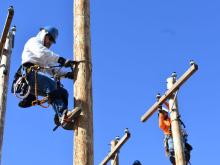 The Electrical Power Technology (EPT) lineman training program on the Pratt campus is full for the 2023-2024 academic year.
However, due to continued interest in the Dodge City and Wichita locations, an additional EPT tour date has been added for June 9th at 8:30am.
A tour of the facilities in Pratt with an EPT instructor is a mandatory part of the admissions process for each location.
Through our program, you will join a fellowship like no other and be able to serve your community in a rewarding and lucrative career.
If you are interested in attending the mandatory tour to begin the admissions process for our Dodge City and Wichita locations, please contact EPTadmissions@prattcc.edu.
 An admissions representative will be in touch with further information.
Learn more about EPT on our website.