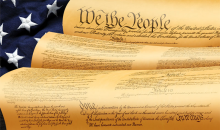 Celebrate Constitution Day at Pratt Community College
Explore the Documents Constitution Day commemorates the formation and signing of the U.S. Constitution by thirty-nine brave men on September 17, 1787, recognizing all born in the U.S. or by naturalization, have become citizens.  On Constitution Day, September 17, the United States pauses to commemorate the drafting of its Constitution.  We invite all members of the Pratt Community College community to join us in reflecting on its historical and contemporary significance. 
On Monday, September 18th, we will be displaying thoughts regarding the importance of the constitution written by our faculty and staff in the Linda Hunt Memorial Library on campus. 
Explore the Documents
About the Constitution