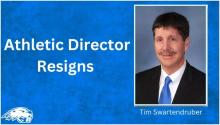 Pratt Community College Athletic Director, Tim Swartzendruber, has resigned from his position as Director of Athletics at Pratt Community College effective October 12.  Swartzendruber has served at the helm of the athletic department for the past four and a half years. 
During his tenure, the PCC athletic department has seen many changes and improvements.  Starting with facilities, Swartzendruber has been responsible for the remodeling of the baseball press box, new scoreboard for Stanion Field, new scoreboard for the soccer/track complex, sound system for the soccer/track complex, renovation of a former storage room into an additional officials locker room, renovation of the men's basketball locker room, remodeling the athletic training room, renovation of the wrestling room, and the current project of installing turf, new fence, and a storage building at Stanion Baseball Field. 
Other achievements during the Swartzendruber era include restarting the Beaver Backer Golf Tournament, establishing a monthly "Beaver Tale" newsletter, restarting the men's and women's tennis programs, writing a grant to begin a women's flag football program, inducting two classes into the Pratt CC Athletic Hall of Fame, and creating "Service School Day" for area schools to attend home basketball games.  In addition, one of Swartzentruber's initiatives was improving the Beaver athletic brand on the website and social media platforms.  X (Twitter) followers have gone from 400 to nearly 2000, an Instagram account was started which now has over 1000 followers and the Pratt Athletic Facebook account has over 1700 persons who like the page.
"I am pleased to say I believe the athletic programs at Pratt are in a better place than they were 4 ½ years ago," said Swartzendruber. "I am deeply grateful to Dr. Michael Calvert for giving me the opportunity to transition from coaching into athletic administration.  I will continue to follow the Beavers and certainly wish them the best."
The academic achievements under Swartzendruber's direction should also be mentioned as seven of the 13 sports received "Academic Team of the Year" recognition in 2022-23 for having a cumulative GPA of 3.0 or above.  This was the second consecutive year of such recognition.  Swartzendruber currently serves on the NJCAA women's soccer, men's wrestling, men's tennis, and women's flag football committees. 
"Tim has done an outstanding job as the Director of Athletics at Pratt Community College," said College President Dr. Michael Calvert. "His contributions are many and he will be missed. We wish Tim well at his alma mater, Bethel College."
Pratt Community College plans to conduct a nationwide search for the next Athletic Director.