Transfer Information
For those students who are interested in continuing their education at a four-year university, Pratt Community College has a transfer equivalency system available to match up courses. A transcript from each college attended is required for all students transferring from other institutions. Transcripts should be sent directly from the college to the Registrar's office.  
 
Transcripts
**IMPORTANT NOTE**  Official transcripts are required for all incoming transfer students.  Please contact your previous institution's Registrar to request official transcripts be sent electronically using a clearinghouse or mailed directly to the PCC Registrar.  Sealed HAND-CARRIED transcripts will not be accepted as official.
NOTE:  We are undergoing a review of our transfer policies.  For updated guidance or for any questions you may have regarding a transfer policy,  please contact the Registrar  at registrar@prattcc.edu or 620-450-2218.


IMPORTANT: You cannot sign the transcript paperless consent form on a mobile device, such as a tablet (e.g., iPad) or phone (e.g., iPhone).
 
Featured Transfer Program
Click2Connect offers a path to move from an associate's degree to a bachelor's degree in partnership with Fort Hays State University​. This program is designed specifically for working adults and there is no college algebra requirement.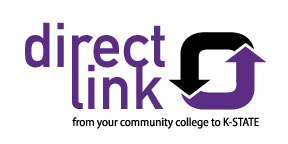 DirectLink is a new initiative between Kansas community colleges and Kansas State University to provide community college students with additional support as they prepare to transition to the university. For more information, please visit the DirectLink website or view our Direct Link Fact Sheet.
 
Reverse Transfer


There is a growing list of courses approved by the Kansas Board of Regents for guaranteed transfer among all Kansas public postsecondary institutions. From College Algebra and English Composition I & II, to Public Speaking and Art History I & II, a student who completes a course listed as a guaranteed transfer course at any Kansas public community college, technical college, or university can be certain that he or she can transfer that course to any other Kansas public institution in pursuit of a degree or credential.
Visit http://www.kansasregents.org/transfer_articulation for more information.


Students who transfer to a Kansas public university from a Kansas public community college or technical college (or vice versa) are eligible for Reverse Transfer, which allows for the attainment of any associate degree for which one is eligible along the way to additional certificates and degrees. Within a student's first semester, those who transfer coursework from a public university, community college or technical college will be notified if they are eligible to be considered for reverse transfer degree status, and which courses are needed to finish the related degree. Students who then complete the coursework for a given associate degree will be eligible to receive that degree, administered automatically by correspondence between the new institution and the university, community college or technical college the student last attended.
Visit http://www.kansasregents.org/transfer_articulation for more information.
 
Continue Your Degree Online

In 2012, an estimated 2.6 million college students enrolled in a fully online degree program, and 5.5 million students took at least one online class. For community college students nearing the end of their associate degree programs, they might think about completing a bachelor's degree online.​ Use this resource to explore your options: 
http://www.affordablecollegesonline.org/degrees