Transfer Information
Transferring to Pratt Community College
If a student is interested in transferring to Pratt Community College (PCC), they should send their official* transcript(s) to the Registrar's Office. Once transcripts are received, they will be evaluated for transfer equivalencies. See Transfer Credit Acceptance policy for more information.
The Kansas Board of Regents has approved courses that are guaranteed to transfer between Kansas community and state colleges. Visit the KBOR website for information about seamless system wide transfer.
Students that are planning to utilize financial aid to cover the cost of their classes must provide official transcripts for all previously attended institutions.
---
Transferring from Pratt Community College
Students that want to transfer to a four year college from PCC should identify the institution they wish to attend as early as possible. This will help to insure that classes and the selected program will transfer as seamlessly as possible.
Below is a list of Kansas colleges that have transfer information specific to PCC:
*A hard copy (paper) college transcript is considered official if it comes to the Pratt CC Registrar or Assistant Registrar in an unopened envelope sealed by the sending institution. The document itself should contain the signature or seal of the Registrar from the sending institution. For electronic transcripts, they must be received through eScrip-Safe, Parchment, National Student Clearinghouse or any other nationally recognized e-Delivery system.
Any transcripts that do not meet this criteria can still be used for advising and enrollment, but cannot be used to transfer college credit.
A hard copy (paper) high school transcript is considered official if it comes to the Registrar's office in an unopened envelope sealed by the sending institution. It also must contain a graduation date and a signature from your school's administrator. Transcripts with projected (future) graduation dates are NOT considered official. If your high school uses an electronic delivery service, the transcript will ONLY be considered official if there is a graduation date that is not projected.
For GED's, you may request an official transcript from the testing facility or your state's education governing body.
If you are home-schooled, please check with your state's department of education for rules on creating official transcripts to insure recognition from secondary education institutions.
PCC does accept hand-carried SEALED transcripts. However, the Registrar does reserve the right to validate the information with the sending institution.

---
Featured Transfer Program
Click2Connect offers a path to move from an associate's degree to a bachelor's degree in partnership with Fort Hays State University​. This program is designed specifically for working adults and there is no college algebra requirement.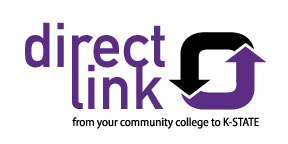 DirectLink is a new initiative between Kansas community colleges and Kansas State University to provide community college students with additional support as they prepare to transition to the university. For more information, please visit the DirectLink website or view our Direct Link Fact Sheet.
---
Reverse Transfer

There is a growing list of courses approved by the Kansas Board of Regents for guaranteed transfer among all Kansas public postsecondary institutions. From College Algebra and English Composition I & II, to Public Speaking and Art History I & II, a student who completes a course listed as a guaranteed transfer course at any Kansas public community college, technical college, or university can be certain that he or she can transfer that course to any other Kansas public institution in pursuit of a degree or credential.
Visit http://www.kansasregents.org/transfer_articulation for more information.



Students who transfer to a Kansas public university from a Kansas public community college or technical college (or vice versa) are eligible for Reverse Transfer, which allows for the attainment of any associate degree for which one is eligible along the way to additional certificates and degrees. Within a student's first semester, those who transfer coursework from a public university, community college or technical college will be notified if they are eligible to be considered for reverse transfer degree status, and which courses are needed to finish the related degree. Students who then complete the coursework for a given associate degree will be eligible to receive that degree, administered automatically by correspondence between the new institution and the university, community college or technical college the student last attended.
Visit http://www.kansasregents.org/transfer_articulation for more information.