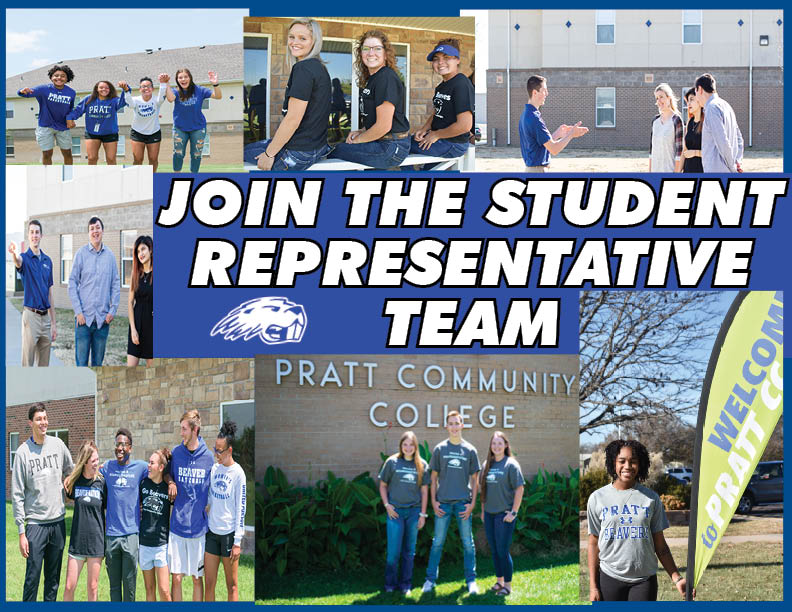 Are you thinking about becoming a part of the Student Admissions Representatives Team?!?! We can't wait to have you join us! 
The first step is to fill out and submit the application form found below. 
---
Pratt Community College is currently seeking students to serve as Student Admission Representatives. Being a Student Admissions Representative is the chance to represent Pratt Community College (Also known as PCC) via your personal student perspective and story! Roles are available for students who want to learn more about public relations, event promotion, recruiting, and mentoring! Fill out the application form to join our Tourguide and Ambassador program through which you can impact your own college community and hold the responsibility to represent PCC through various types of events and platforms. 

Applicants and interested students should:
Maintain a 2.5 or higher cumulative grade point average
Have the desire and enthusiasm to represent Pratt Community College
Ability to work collaboratively and positively alongside others 

Tasks and possible assignments:
Help organize and run important Admissions recruiting events such as Beaver Building Days, Campus Tours, and additional recruiting outreach and efforts throughout the year
Cultivating relationships with potential PCC students and their families
Engage via Social Media platforms and aid in content generation specific to Admission and the PCC campus experience
Provide contact with students throughout the entire Admission process, such as writing postcards and sending text messages, emails, and making phone calls
Have the chance to lunch host with visiting students and families!
Possible other Admission Office duties to be assigned as necessary

Not sure if you're a match for the Admissions Representative Team??!! Keep these things in mind:
Becoming a part of the team gives you the chance to grow your skillset. Through leadership training and the tour-guiding experience, you'll have the opportunity to bolster specific communication and collaboration skills. 
You are provided with Team Swag!! You are equipped with, at minimum, an Admission-specific polo, and hoodie.
Being an Admission Representative is the chance to leave your mark on the PCC community!!

Any student interested in joining the Admission Representative Team that has additional questions or would like more information prior to submitting an application, please contact Elizabeth Britton, Assistant Director of Admission at 620 450 2194 or via email at elizabethb@prattcc.edu.
---
Cannot wait to join us?! Fill out the application below!