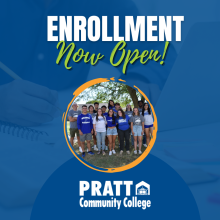 Spring 2023 enrollment at Pratt Community College is now open!

Current students need to schedule a time to meet with their advisor. Students new to PCC can apply for admission to get started.

Visit our website to view our Class Listings for Spring 2023 and find further instructions on how to get started!

You may also contact Admissions at pccadmissions@prattcc.edu or 620-450-2217 with questions.