Kingman Students Earn Real-Life Experience and Free College Credit Through PCC
20 April 2021
High School students in Kingman get to jump in and get their hands dirty with real-life work and earn free college credit.
They are enrolled in the Automotive Technology program located at Kingman High School. It is a CTE Pathways program for high school students through Pratt Community College.
PCC Automotive instructor Tyler Wells is a Kingman native, and loves teaching his students the whole process.
"Whenever we do a job repair, they write down their 3 C's, your complaint, your cause and your correction. They will go through, diagnose the vehicle with the customer concern. They will write up a parts request for everything that's going to be needed to repair the job, look up prices for it, purchase prices for it, get a repair order built, get a parts quote built. They pretty much run it from start to finish so then they know what it's like in a dealership and they can transition easier to that."
Senior Carter Allen loves the program because he's learning specific things on important hardware. He's replacing the power steering pump on his dad's truck.
"(My dad) told me that it had been leaking for a while, so I brought it in a couple weeks ago and me and Mr. Wells took a look at it. We saw that none of the lines were broken or anything like that, didn't have any holes, so we narrowed it down to the pump which leaked right around the seal, so we pretty much went from there and ordered a new one, and I'm getting it put in."
High school senior Carter Allen works on a power steering pump.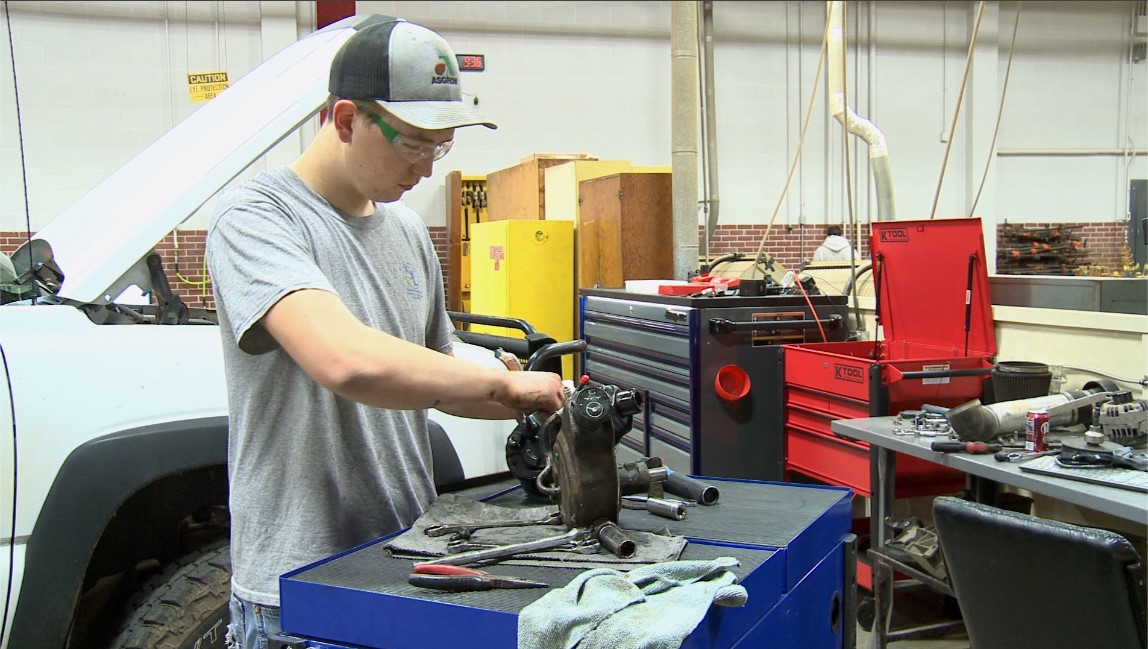 There are a lot of high-tech tools in the new, state-of-the-art shop on the Kingman campus, but they have old-school options too.
Junior Mitchell Partridge is studying wiring diagrams to diagnose an injector problem on a family vehicle.
"There's misfire here on my dad's Acura. We've been going through testing procedures and figuring out which injector has been causing the misfire, pulling up wire diagrams and testing."
High school junior Mitchell Partridge works to diagnose a misfire.

Mr. Wells is proud to supervise the hands-on work in the Automotive Technology Program in Kingman.
"Every day it seems they get smarter and smarter, I know they're understanding what we're teaching, so they can walk into a dealership and not have an issue transitioning directly into a job, so it's really nice. It gives them a lot, a quicker jump on the job market especially and with a lot less student loans coming out of school, so it really helps out."
Carter plans to continue on to the two-year Automotive program at Pratt Community College and go to work afterwards. Mitchell also plans to stick with it. He says there is a lot of money to be made in the industry, and getting a free head start on training while still in high school is great.
Watch Carter and Mitchell in action in the shop and hear from instructor Tyler Wells in this video. You may also click the picture below for video to load.
Learn more about the Automotive Technology programs on the Pratt Campus and the South Central Pathways campus in Attica, KS on our website.
Visit our College Start program page to learn more about our Career Technical Education (CTE) courses!